Skip to Content
Bucket Trucks & Boom Trucks
Bucket Trucks and Boom Trucks in the Southwestern U.S.
Bucket trucks and boom trucks are crucial elements to the industries that use them. Aerial lifts are essential vehicles to the power transmission and distribution industries and play a crucial role for workers involved with telecommunications, construction, lighting, signage and traffic signals, and forestry. Utility Crane & Equipment, Inc. is a leading supplier of bucket trucks and boom trucks with locations throughout the Southwestern U.S. Our versatile line of aerial lift trucks and utility equipment has served various industries in Arizona, California, New Mexico, Nevada, Hawaii, and El Paso County, TX since 1979. Explore our inventory today for the ultimate in safety, reliability, and innovation.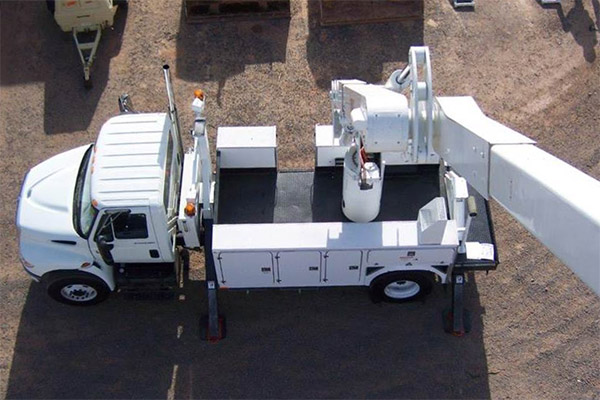 Our Versatile Line of Bucket Trucks and Boom Trucks
Utility Crane & Equipment, Inc. can provide bucket and boom trucks with working heights from 30' to 218'. Featuring name brands such as Versalift, Elliott, Palfinger, SkyLift, Lift-A-Loft, Condor, SkyBird, Ruthman, and Phoenix, we are your premier source for the most durable, reliable bucket and boom trucks in the region. Regardless of your vocation, we're committed to delivering the quality equipment you need to work safely and effectively. We have many models and configurations available, including:
Telescopic Articulating Bucket Trucks
Over Center Bucket Trucks
Elevators
Insulated & Non-insulated Bucket Trucks
And Much More
Your Search for Utility Equipment Made Easy
Utility Crane & Equipment, Inc. has built a distinguished reputation as a leader in world-class utility equipment and accessories for four decades. Our team of tenured industry professionals takes pride in delivering the quality service our customers deserve in every phase of our business. As an established dealer of an impressive array of affordable equipment solutions, you can be assured you're getting the best products available on today's market. View our expansive collection of bucket trucks and boom trucks today.
Utility Crane & Equipment, Inc. Has Quality Equipment Covered